Silicone Tapes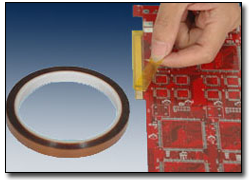 Silicone tapes are designed for high temperature applications and are typically used for splicing and masking applications. These constructions are made of a PET or polyimide film and are offered in self wound or double sided tape constructions. Silicone adhesives have excellent temperature resistance and clean removable properties for the most demanding applications.
Silicone tapes are used in various industries like the powder coating, aerospace and electronics industries for applications including high temperature masking, plating, composite bonding, splicing, and high temperature gasketing.
Product Data Sheets
More common Product Data Sheets below. Other constructions available upon request.
| Product | Backing | Silicone Adhesive | Total Thickness | Color | |
| --- | --- | --- | --- | --- | --- |
| SB400 | 2 MIL PET | 1.4 MILS | 3.4 MILS | Green | Download |
| SB410 | 1 MIL PET | 1.4 MILS | 2.4 MILS | Blue | Download |
| SB420 | 2 MIL PET | 1.4 MILS | 3.4 MILS | Blue | Download |
| SB430 | 2 MIL PET | 1.4 MILS | 3.4 MILS | Yellow | Download |
| SB440 | 1 MIL PET | 2.0 MILS | 3.0 MILS | Yellow | Download |
| SB401 | 1 MIL Polyimide | 1.6 MILS | 2.6 MILS | Amber | Download |
| SB402 | 2 MIL Polyimide | 1.6 MILS | 3.6 MILS | Amber | Download |
| SB403 | 1 MIL Polyimide | 1.4 MILS Both Sides | 3.8 MILS w/o Liner [3 MIL PET Liner] | Amber | Download |
| SB490 | 1 MIL PET | 2.0 MILS Both Sides | 5.0 MILS w/o Liner [2 MIL PET Liner] | Clear | Download |